With so many websites and information available online these days, being able to provide customers with meaningful and individualized content is a must-have attribute for any ecommerce store, particularly those that operate in international markets and need to deal with so many local specifications.
Undoubtely this is a tough challenge for any global business online. But luckily, there are also good news. Geomarketing is an online marketing tool that allows the marketing mix to be adapted according to intrinsic geographic characteristics and data.
Through geolocation, websites can track visitors and delivery customized content, for example, redirecting online users to determined pages, according to the country, state, city, or neighborhood they are located in.
In simple terms, geomarketing allows you to create local strategies that motivates customers from the region you are targeting to interact with your store, becoming one of the most important global ecommerce strategies.
There are many ways to use geolocation marketing in ecommerce, according to your website structure, the countries you want to reach and the products or services you offer.
To help you out, we've listed some of the most popular usages of geomarketing to target foreign customers.
Best Geomarketing Strategies for International Ecommerce
Customization of web pages
It only takes a few seconds to captivate your customer's attention when they enter your website, therefore, it is important to be short and sweet.
Using geolocation, you can automatically design your homepage, or specific landing pages, to adapt itself according to your customer location, offering them what they are looking for and providing content that could catch their eyes. One way to that is by giving the customer the option to access your website in their language and see pricing in their local currency.
You can also set different promotional banners and pop-ups through-out your website's pages, following the preferences and trends of each country, without overwhelming them with too much content and unnecessary information.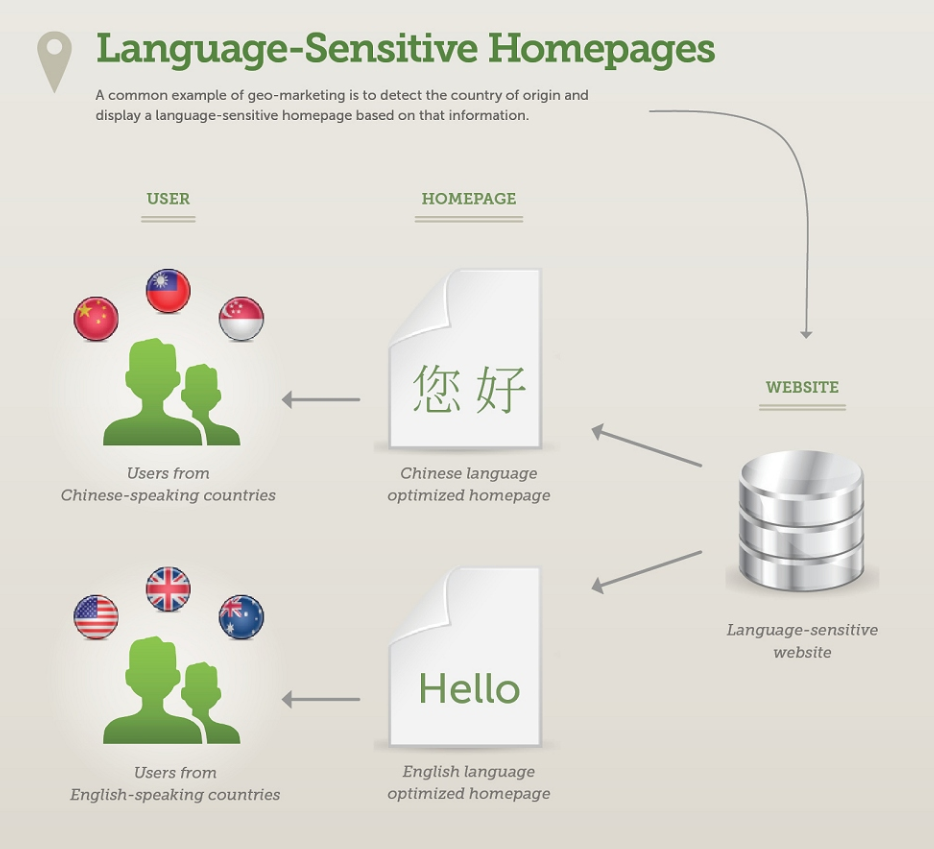 Source: Kissmetrics
This geolocation strategy is widely known and used by top ecommerce companies to improve customer experience and website conversion.
Display different products to different countries
Since each culture has its own preferences, what might work in a region might not work in another, and cross-border ecommerce stores must have that in mind when selling to a different country. That's why displaying products according to the customer location is another common technique of global ecommerce websites. This is largely used by brands that offer seasonal products, or that want to explore local cultural events, tailoring their pages dynamically.
For instance, if you own a fashion ecommerce that ships for countries in different hemispheres, you should use geolocation to distinguish your web pages according to the season your customer are in. Let's say we are in December; while in the U.S. your focus should be in selling cozy, warm outfits because of the rigorous winter, in Brazil you should prioritise selling light clothes, given the hot summer Brazilians are probably experiencing in that moment.
Also, you can use this feature to create festive banners according to each country's local holidays. If you are selling to Brazil, for instance, you can explore the Carnival celebrations promoting discount coupons or a range of products related to this event, exclusively to the people accessing your website from the country.
Hyper-local target selection
For ecommerce shopsthat need or want to go even further with geography, and aim at a specific age or interest group, it is also possible to invest on strategic locations such as airports, universities, concert halls, stadiums, or malls. That way, you can increase the percentage of people that are interested on your products and services, and set the right message and tone to reach them. Naturally, it becomes even more efficient if you put it together with a discount coupon or engage the customer with a live action, like sharing a picture with a hashtag, something like #thenameofyourbrandrocks.
If well planned, this can also be booming for a product launching or to promote a new brand.
To exemplify, if you think about an ecommerce that ships all kind of pet products, like food and toys, pet adoption fairs and other events, it would be the right occasion for you to show up with your brand and offer special purchasing offers.
Make sure your pricing is (really) right
When trading within international markets, it often makes sense to charge diversely the customers from different countries for the same product, taking in consideration exchange rates, taxes, competitors, and customers' purchasing power.
Imagine how frustrating it would be to purchase a product for a price, and be charged a different value because of currency exchange variation or eventual taxes.
This change can make a big difference in your sales, because you will be able to maximize your revenues.
Offer Shipping Deals Optimized for Each Region
Get to know better your international shipping services and costs, and if possible, play with that to attract more clients.
You could display some free shipping discounts for the customers that are in the same country as your business or, in case your ecommerce has a courier partnership that delivers for a cheaper price in specific countries, you could think about a campaign deducting shipping costs, taking into account the volume of sales in each region this could arise – more sales, more benefits.
Going a bit beyond that, you can also consider offering strategic pick-up points in countries with high sales rates, giving another option for local clients that have all the products ready in the shop cart and do not like to spend lots of money with delivery costs.
It will be a pleasant surprise for local customers to receive these benefits directly on their screen, all geographically calculated for them. You will be amazed by how you can improve local sales when you offer this kind of shipping advantages.
Geolocation and geofencing marketing, what is the difference?
While geo targeting allows the choice of a specific public inside a region, using together other characteristics to contrast different targets, geofence delimits an area and reaches all the people on it, creating a virtual fence around it.
The main advantage of a geofencing strategy is to catch all users that are passing by strategic locals for your brand, maybe close to physical stores that sell your product or where you are current promoting an event.
Source: Synergy World
If necessary, discard unfit locations
On the other way around, with geo marketing it is possible to exclude areas your brand does not have a relevant audience or locations that you are still not fully prepared to reach. This way, you avoid the inconvenience of advertising for region that is not really your target.
A good example of this would be excluding tropical regions of the globe when advertising warm blankets. By doing this, you will also be saving marketing budget to invest in more important target areas.
Targeting on mobile
Mobile devices are the main players when talking about geo targeting. That's because people can access their mobiles and tablets anywhere and shop whatever they want, from food to home appliances.
With more precise customer locations, provided by online devices, ecommerce shops can deliver live, in context experience for the users, providing more relevant information than when they access information from their home PCs.
All-format-responsive websites and brand apps could be the start to attend the increasing demand of mobile devices, but you should not limit the great potential of mobile to only those two features.
Investing in apps can be a good call. Imagine you own a specialized online store for running goods. Partnering with or developing your own running app can be an interesting way to reach customers, as they can record their route, speed and distance, and check their improvements on it. Just imagine how astonishing for a potential customer to receive a congratulation message or a running tip from your shop just after a challenging run?
Are you ready for geomarketing?
Even though applying an international geomarketing strategy can be a complex task that demands much study and planning, it is also a worthy action for global ecommerce stores that are looking for a differential, more targeted approach among foreign customers.
Our last recommendation would be the need for caution about location data. Always follow each country privacy policies to avoid taking the risk of being intrusive or break any rule. It is important to make sure your public is aware and willing to receive this kind of advertising, otherwise, all of your efforts can become worthless, or worse, turn into a reason for people to avoid your company.
In general, new generations such as millenials, are used to location-based marketing actions and sometimes even expect receiving messages about a product right after looking for it on search engines or visiting a store. This is a differential experience many customers appreciate and online businesses shouldn't miss out, as it can certainly help increase sales and improve overall profits.