Ecommerce
International Shipping: A Guide On Shipping to Brazil From USA
December 21, 2017
The United States are without doubt one of the Brazilian population's main focus when it comes to imports. Attracted by the great savings that shopping internationally can offer – even when the exchange rate is sitting higher and the incidence of customs duty is a possibility – they keep buying more and more on U.S. websites.
For those who live in the United States and are thinking about selling and shipping to Brazil from USA, the opportunity of selling cross-border is really advantageous, but, it demands an attentive strategy in order to generate good sales. Knowing deeply what the methods of sending packages to Brazil are and which ones best suit your product type, for instance, is a decisive factor for the success and profitability of this type of business.
[VIDEO] I've also recorded a video with some tips on Shipping from the USA to Brazil:
Okay, now let's go straight to the point.
Pre-Shipping
Before anything it's important to wrap your package the safest way you can, using materials that could provide resistance to humidity and possible impacts. Long distance trips can cause occasional damage so it's best to be careful.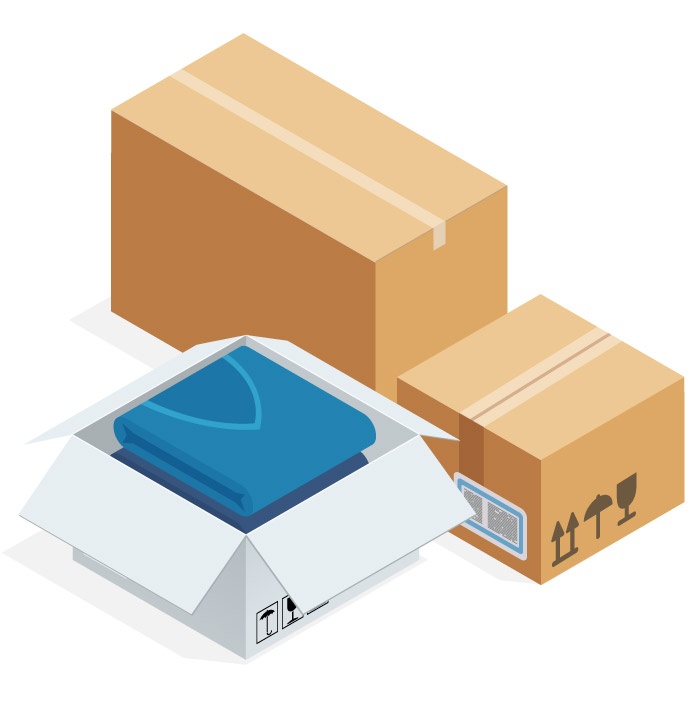 When addressing the package, use printed labels and don't forget that in USA, both addresses must be written on the same side of the box: sender on the left superior side and receiver in the center.
After closing the package, weigh it before taking it to the mailing office and take into account the pound to kilo conversion: this way you can calculate the shipping to Brazil cost and choose the best suitable service, considering what is being sent. (1 kg = 2,204 pounds).
Choosing a mailing service
There are many available options, with advantages and disadvantages that vary in each situation. Choosing the best option will depend on some specific items that must be considered, such as:
1. Weight and value of the package
The services vary their shipping costs and possibilities according to the package's ticket. At the same time, the value of the object can determine the type of shipping, through a more expensive service or a cheaper one, for example.
2. Urgency in receiving
There are different options of deadlines in the available freight services. In general, the more urgent the delivery is supposed to be, the more expensive it'll be.
3. Strict or special features
Very fragile products or large ones, for example, will need a specific service. Besides, the regulations for shipping from the US to Brazil must be well understood, once some imports are forbidden in the latter.
Correios (Brazil Post)
The transport used to ship from the US to Brazil is operated by USPS (United States Postal Service) along with the Brazilian Postal Service. The packages posted in the US are transported through air and, when they arrive in Brazil, they're redirected by the Brazilian Postal Service to their final destinations.
Note on shipping using Correios: as in any other mailing service, products can be taxed when arriving in Brazil. When it comes to Correios, these taxes are paid by the costumer when receiveing the product.
There are distinct modalities when it comes to shipping to Brazil from the USA by using Correios, with costs and specifications that adapt to different needs:
USPS Priority Mail: The most commonly used, mainly for being safer and more punctual at a reasonable price. Ideal for high priced packages, this options provides insurance and tracking code and it can also be used to heavier and bigger packages (up to 31,751 kg or 70 pounds). It has a sensible tax rate and delivery time varies from 20 to 60 days. When it gets to Brazil, the package becomes 'PAC' (Standard service at 'Correios')
USPS Express Mail / EMS: Despite offering a faster service, its speed can decrease considerably after the product arrives in Brazil, many times because of the customs bureaucracy. Just as Priority Mail, this service also offers tracking. Its main disadvantage is the price, that is actually higher, specially if we consider its high taxation risk. The weight restriction for this service is 31,751 kg, or 70 pounds. When it arrives in Brazil, it becomes SEDEX.
USPS First Class International: It's a more economic service and, because of that, is also very commonly used. However, it is available to small packages only, weighing from 1,8 kg total or that cost up to 400 dollars. Its disadvantage is the fact that it doesn't provide insurance and tracking is only partial, that's why it is recommended for low price products. On the other hand, there's the advantage of it being one of the least taxed services. Its delivery time varies from 30 to 60 days.
DHL Global Mail: USPS' competitor, this service offers transport from the US to Brazil through Courier DHL and after that, through Brazilian Postal Service (Correios). The difference here is in the weight limit. A better limit than the one offered by USPS first class, not to mention the competitive price – factors that make it a favorite for supplement companies to use it to export to Brazil. The company only offers tracking for packages heavier than 2kg.
Shipping companies – Courier
In this particular service, the packages are transported by private delivery companies who work with door to door international companies, The Brazilian Postal Service (Correios) doesn't take part in the process.
Its first and main advantage is the speed. With a delivery time that varies from 7 to 10 days, Courier Transport becomes highly recommended for products and/or documents that are of urgent character. That speed, however, has a price. Besides the freight, which is expensive, the packages will always be taxed by customs, regardless of the value (except for goods free of charge, such as books and magazines).
In most cases, there's a 60% tax rate, and in some states, an extra fee of 18% over ICMS ( Brazilian tax on the circulation of goods) that can be charged upon shipping or receiving of the package.
Fedex: It delivers the package in less than 7 days at the buyer's house. However, to make the process faster, all goods are taxed as soon as they are received. The service itself involves high costs and fees. The company provides safety and a very efficient tracking of the package.
You may also like this article: FEDEX or UPS – which is best to your business?
DHL Express: Different from the Global Mail service provided by the very same company, the Express Mode is completely executed through courier and arrives in Brazil within a week. Just like at Fedex, the tax charge is done when receiving and it happens in 100% of the cases.
Shipping Companies – Courier
TNT: Its main advantage comparing to the competition is its broad coverage of the brazilian territory, being able to reach locations that other companies usually can't. Besides, the freight price is competitive. The imports taxes are paid before shipping, in administrative fees.
Companies like Fedex, DHL and TNT can calculate the weight of the package with different criteria from USPS, taking into account its "dimensional weight", when the object is calculated and transformed into its equivalent weight, value that will be used to define the shipping costs. With that in mind, one way to save some money when shipping through this modality is to try and reduce to the minimum the size of the boxes. This will reduce its dimensional price and, as consequently, its paid value.