Ecommerce
Ecommerce trends: Market Insights about Latin America
December 28, 2017
Latin America is a region with over 30 nations and a population exceeding 600 million. Massive in terms of size and diverse in regards to population, the largest countries are home to over 200 million citizens, whereas smaller countries have just over 3 million inhabitants. This is what makes of Latin America a big trend for ecommerce in 2019.
The Time to Grow in Latin America is Now
Take advantage of growing ecommerce markets throughout the region by benefiting from first-mover advantages, lower levels of competition and sales fueled by consumer demand.
Ecommerce is an expanding industry in Latin America for both domestic and cross-border merchants. The speed of growth in some mature markets has slowed, however, in Latin America, growth continues to expand in the double-digits.
Online sales in Latin America are expected to grow 19% in the next 5 years – far above the global average of 11%.
Countries within the region have experienced the opening of their economies to increased levels of foreign trade over the past decade which has paved the way for ecommerce success. Today, these changes have created the opportunity for cross-border ecommerce merchants to profit.
The ability to purchase internationally in the comfort of a consumer's home or on the bus by the touch of a button, is new, tending and will continue to grow in popularity.
Latin American consumers are savvy and want to have the newest products and services that enhance or provide solutions to their daily needs. Cross-border ecommerce merchants are fulfilling their needs by providing:
Products and services that are not available within the domestic market
A larger selection of products or services to choose from
Better quality items and services
Competitive or better pricing
Cross-border ecommerce merchants are playing their own role to increase sales. They are making it easier for customers in the region to purchase cross-border through the customization of their websites, product descriptions and marketing campaigns, localizing customer service support and accepting local payment methods and payment options.
Latin Americans are waiting for you! The next step is to identify what nation you will expand into first. Let's take a quick look at the four largest ecommerce markets within the region.
Latin American Ecommerce Markets on the Move
The strongest entry strategy is by evaluating your profitability in one of the more advanced ecommerce markets within Latin America. Consumers are connected, buying and sharing their experiences with friends and family – encouraging even more spending.
Once you have a foothold within one or more of these large markets, continued expansion with your trustworthy reputation in Brazil, Mexico, Argentina or Colombia will enable smarter and more strategic entry into the other rising growth markets.
Take a look at the four largest ecommerce markets in the region.
Brazil
The country is the region's ecommerce market leader with over USD 16.58 billion sales processed in 2016.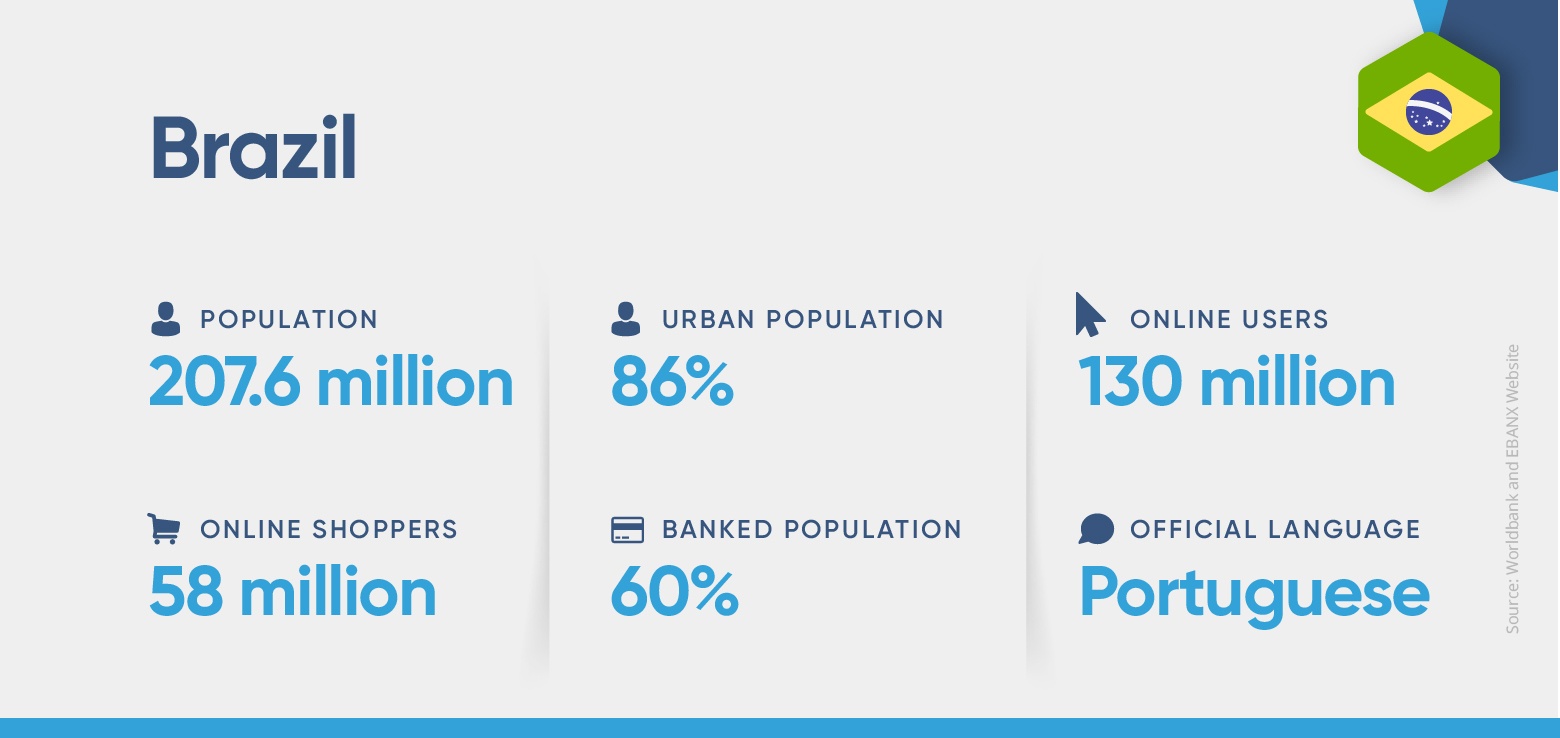 Mexico
The second largest ecommerce market with 2016 annual sales of USD 7.19 billion.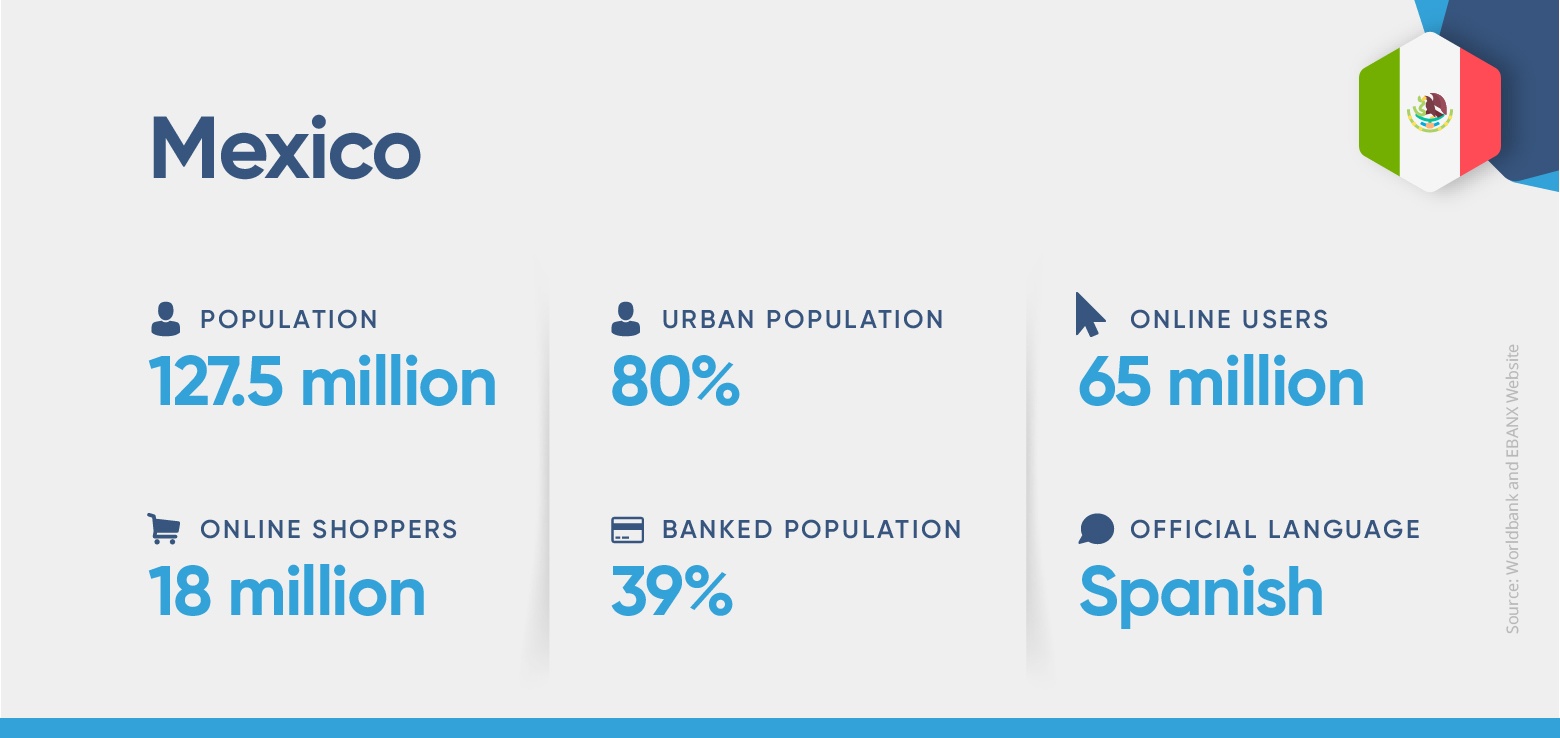 Argentina
Generating USD 5.1 billion in ecommerce sales in 2016.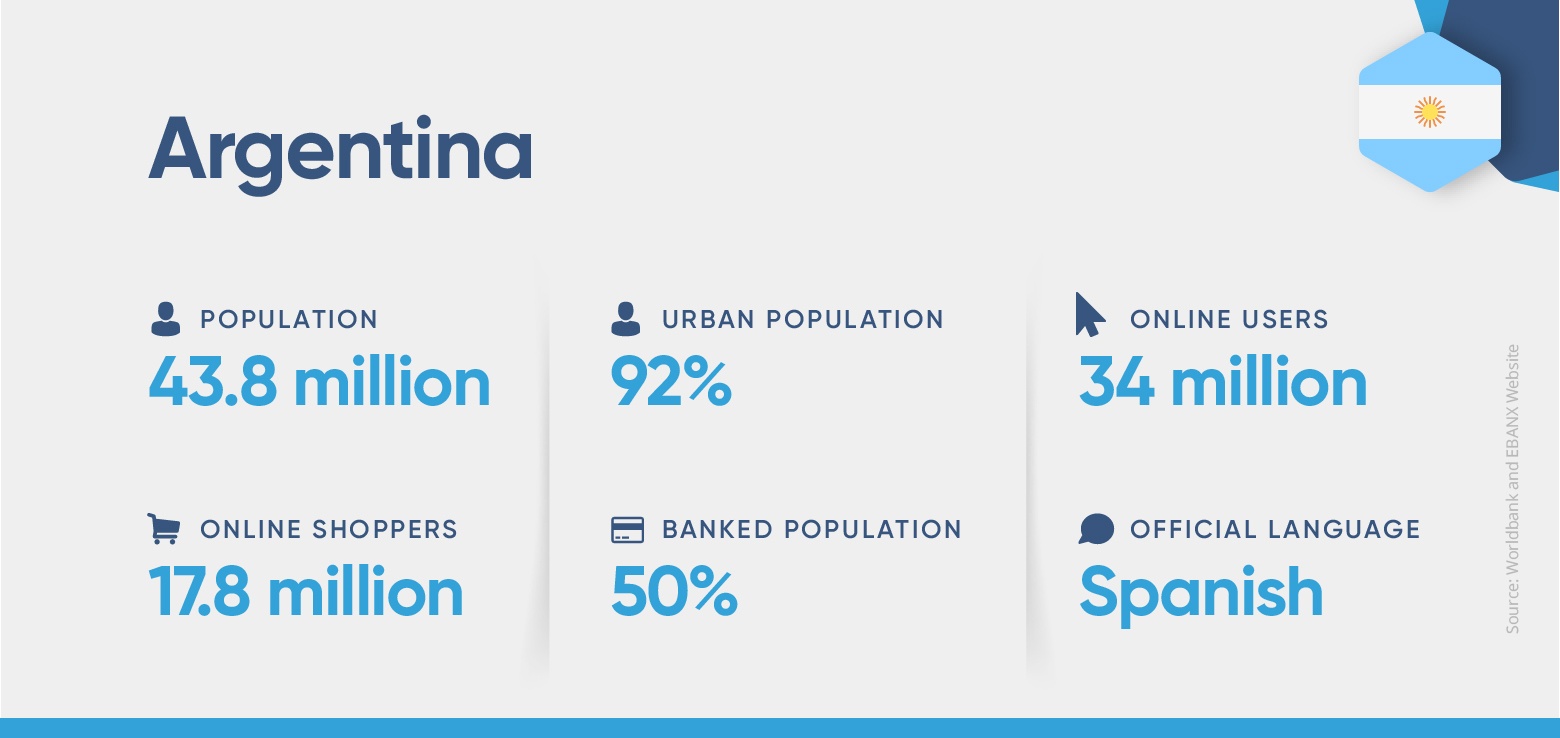 Colombia
The country was the fourth largest ecommerce economy in 2016 accounted for nearly USD 111.5 million in sales.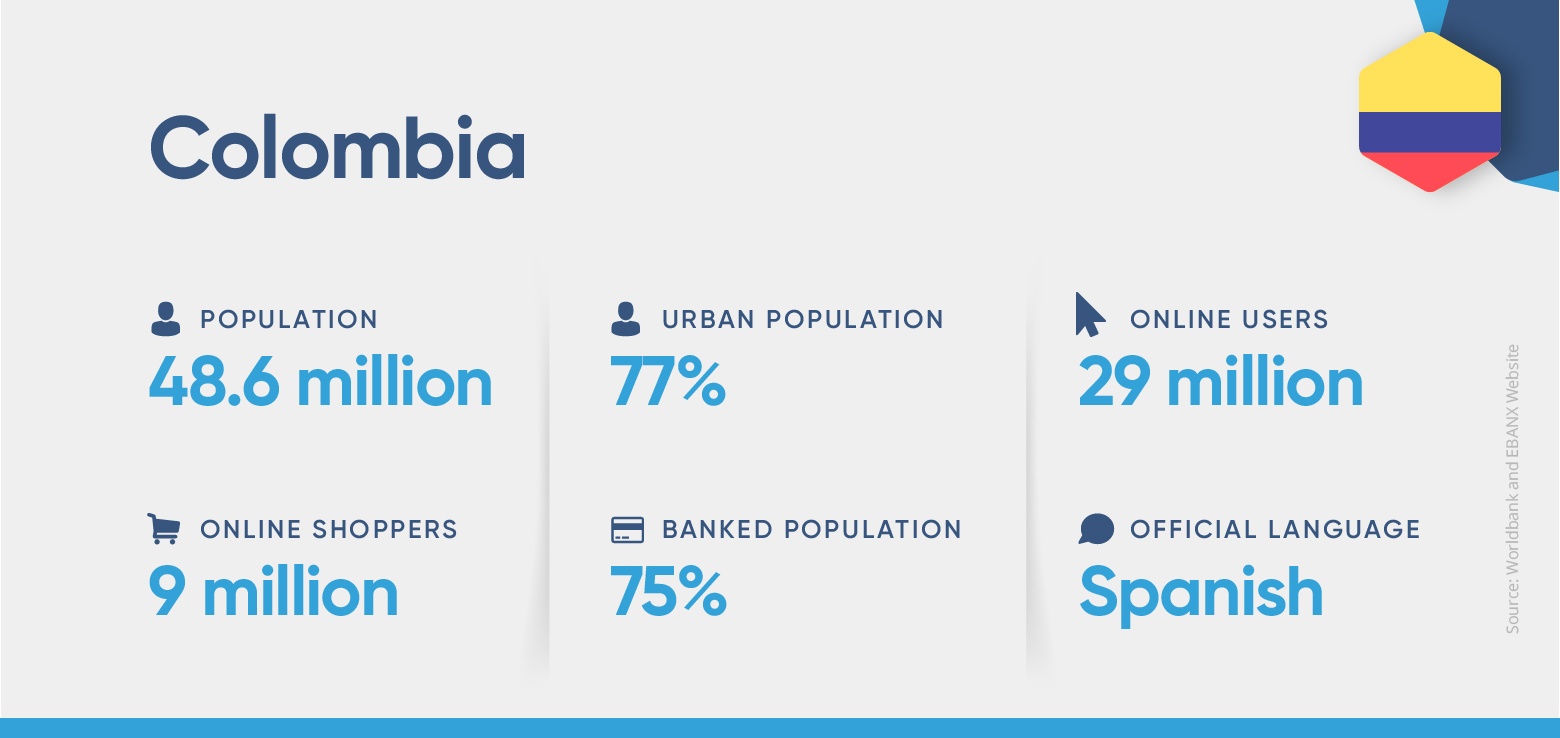 The Outlook for Latin America's Ecommerce Sales in 2019
Growth will continue to be strong throughout Latin America. When looking towards the future, let's examine forecast for Latin American ecommerce sales from 2016 through 2019.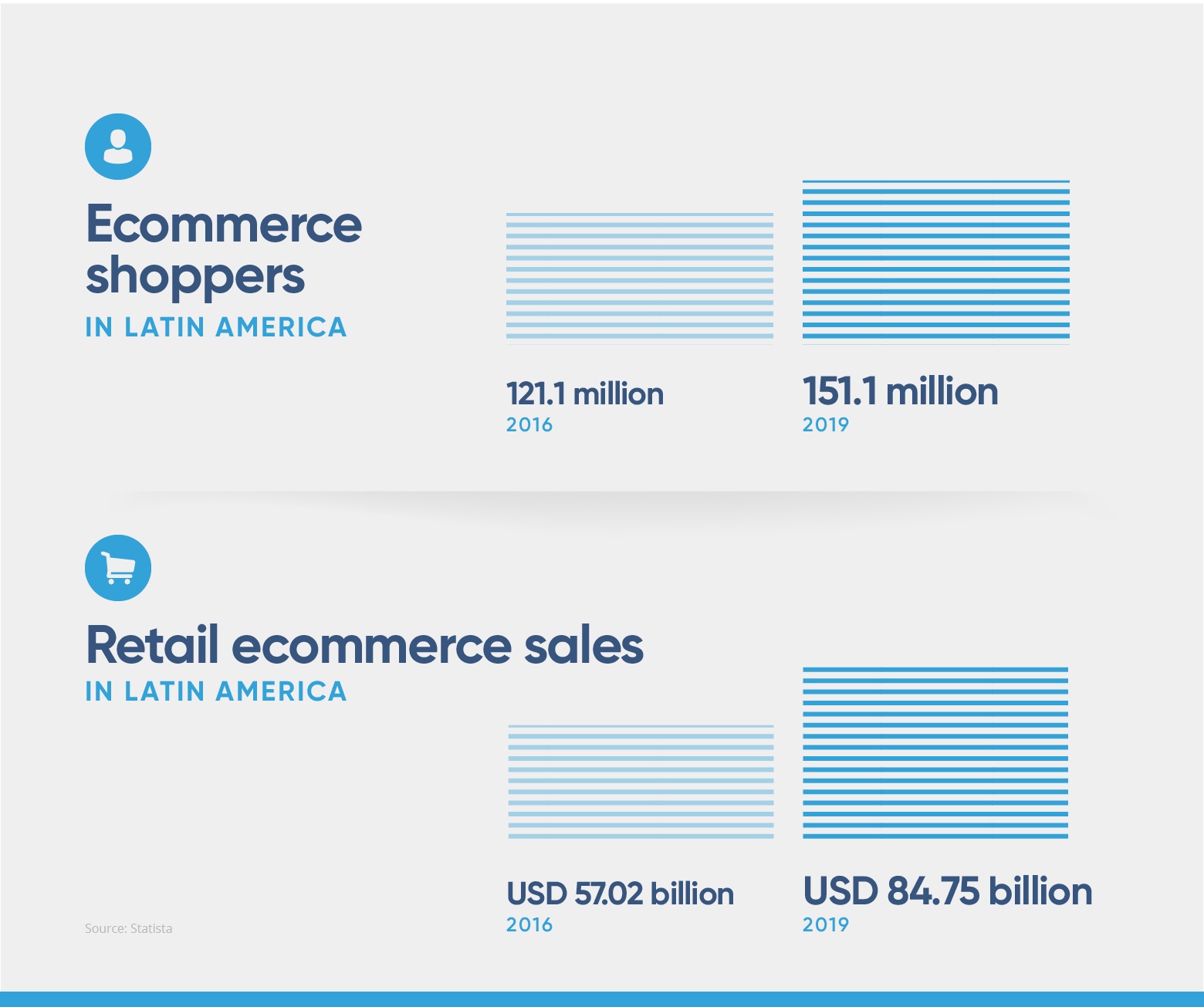 While these numbers dwarf that of ecommerce sales and shoppers in China and other developed nations, the market potential of Latin America is a rare diamond, an emerging market with numerous needs and ample opportunities to sell. Latin Americans are resourceful and even in times of economic downturn, consumers seek more affordable prices and turned to cross-border ecommerce merchants to fill this need.
Products in Demand
Each consumer market within the region displays unique purchasing preferences. But one similarity exists: Latin Americans love to shop. The following top three product categories were gathered from numerous national surveys and represent the products purchased most frequently through ecommerce merchants in 2016.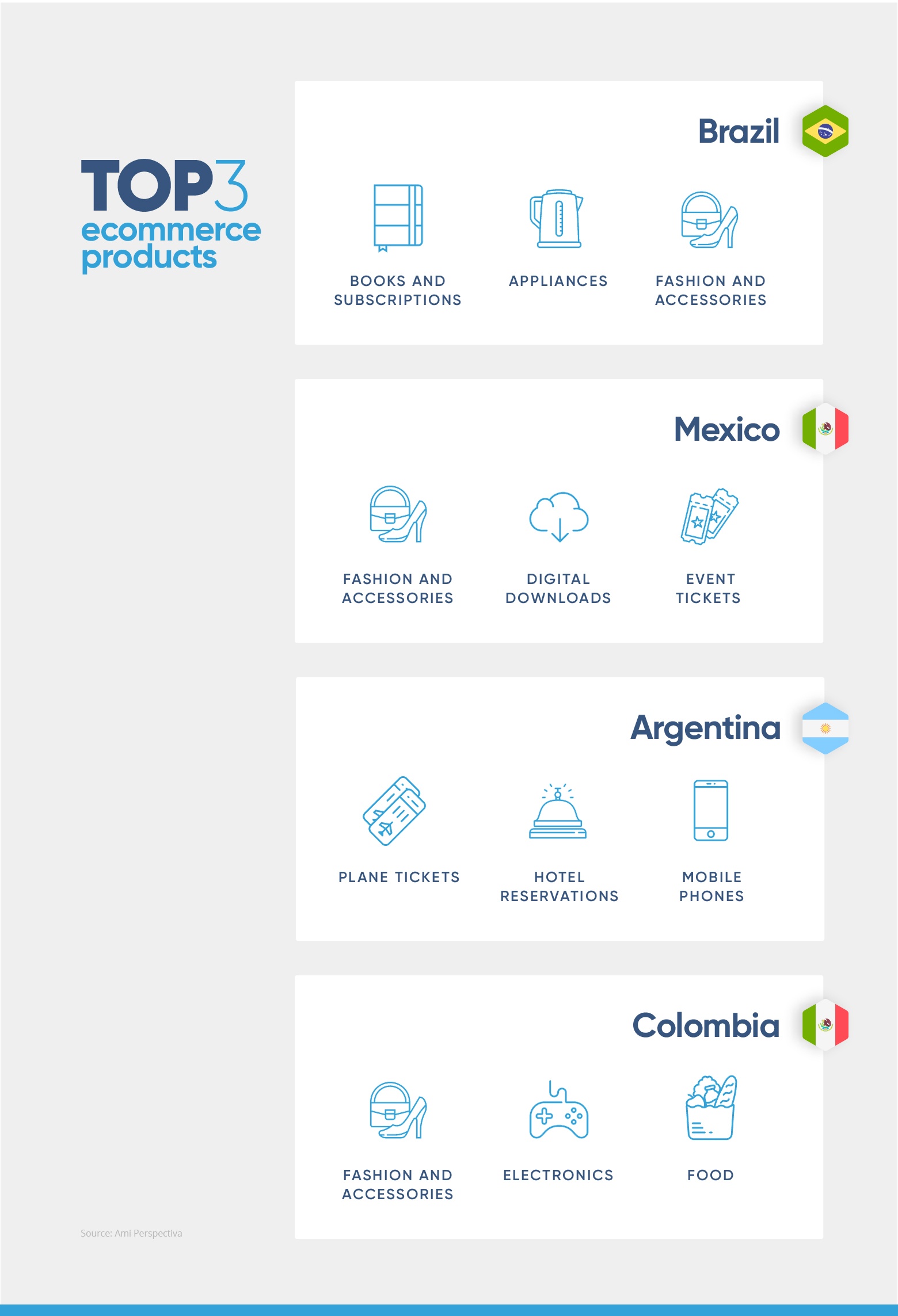 Treating Regional Obstacles as Opportunities
A common misconception is the thought that Latin America is a poor region, and that Brazilians, Mexicans, Argentinians or Colombians probably don't have access to the internet and cannot afford to make international purchases.
But, the opposite is true…
The economies of Latin America are on the rise, individual incomes are increasing, the region is highly connected to the internet and citizens love to shop. Your prospective customers have money and in most cases, can afford your product either by paying in full or for large ticket items through local payment options, such as installment plans.
Understanding the market, customer needs and obstacles present prior to launching, will provide you with numerous advantages. Learn more about two of the most prominently discussed areas needing their own market entrance strategy.
Local Payment Methods
Due to varying degrees of access to banking and financial services, Latin Americans continue to utilize local payment methods for in-store and online purchases. Specifically, with cross-border ecommerce, the ability to pay with local payment methods ranks as an important purchasing decision factor throughout the region.
What are local payment methods?
Obstacle: By not offering local payment methods, ecommerce merchants are immediately limiting their prospective consumer reach to only those who have credit cards that can transact internationally.
Opportunity: The opportunity of offering local payment methods will unlock full access to the complete e-consumer market. However, local payment methods can usually only be accepted by businesses that have an established local entity in the nation (this even includes ecommerce businesses).
But, if you partner with a local payments processor, they act as the merchant on record for your business on the ground. With this payment processing strategy, merchants can accept local payment methods and their settlements will be paid out anywhere in the world.
Shipping Logistics
As an ecommerce merchant, you were successful in convincing the consumer that they could trust your business, have confidence in the product or service, and that they needed your product even though they might not be able to have it instantly, as would be the case with purchasing from a brick-and-mortar store. Now, the wait is on and your customer will only be happy once they have their product.
Obstacle: Unfortunately, receiving international packages can take over 60-days in some Latin American nations. Adding to the complexity of shipping, many nations in Latin America have bureaucratic custom processes and impose high duties and taxes on international packages over specific monetary values and on certain items. Using a one-size-fits-all shipping strategy does not benefit either party.
Opportunity: An international shipping strategy that is right for each new market is key. There are many shipping options that provide benefits for the merchant and also for the consumer related to cost, delivery speed, insurance coverage, tracking capabilities and custom formalities, including duties and taxation.
Selecting the right shipping logistics mix (often by offering more than one delivery option) can create an opportunity to educate customers, answer common questions and develop a sense of security.
The Next Step Expanding into Latin America
The timing is right and the region is calling. Now is the time to dig a little deeper and determine where your first successful expansion market in Latin America will be.
Here at EBANX Payments, we offer end-to-end payment solutions to connect international merchants with eager shoppers in Latin America. We have over 100 Latin American local payment options for international ecommerces, allowing them to expand their reach, increase access and drive sales throughout the region.