Boletos are such a staple in the economy that Brazilians usually make the mistake of thinking boleto is its own payment type like a credit card. What most people don't know is that boleto bancário is a revolutionary payment method and its own brand (kind of how we call lip balm chapstick even when it's not a Chapstick, or Kleenex for tissue paper).
What is a Boleto Bancário?
The boleto bancário, or boleto for short, is the preferred cash payment method in Brazil and can be either a printed or a virtual (PDF or image) voucher. Boletos are regulated by Brazilian Federation of Banks (FEBRABAN) and allow millions of Brazilian consumers to pay their bills in more than 40K different boleto processing locations around the country. The boleto will always have a barcode, corresponding serial number, transaction amount, issuing bank code, customer information, description, and expiration date.
The barcode or the serial number can be used to pay the transaction amount listed on the boleto at any period leading up to the expiration date.
How Does Boleto Work, the Payment Process
The boleto payment process can be viewed from two perspectives: the customer's journey of finalizing a purchase with a boleto payment or the merchant's experience in issuing a boleto as a payment method.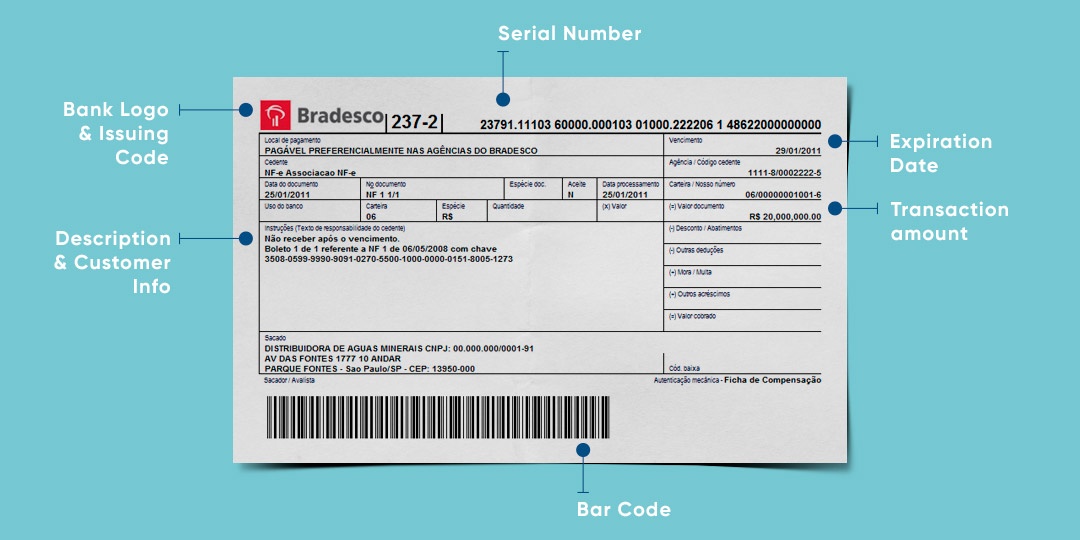 Key Parts of a Boleto Bancário
The Customer's Journey
To pay a boleto the old fashioned way (before most Brazilians had a smartphone or access to internet banking), the customer is given the printed boleto voucher and takes it to a location that processes boleto payments. Just about every corner there is either a lotérica (Lottery House), bank, post office, or supermarket that processes boleto. The customer walks into one of these locations, pays the amount in cash, and the transaction is complete.
covering market share, ecommerce use, and merchant benefits.
Ecommerce is huge in Brazil, and nowadays, Brazilians prefer to pay boletos without having to step away from their device. When a customer buys a product or service online with boleto, they can scan the barcode with their smartphone or type the serial number into their internet banking app. This method charges the amount directly from the customer's available balance.
The Merchant's Experience
When the customer selects to make a purchase using boleto, the merchant issues a boleto with the amount, customer information, and an expiration date. Depending how far out the merchant sets the expiration date, the customer can take anywhere from 3-15 days to finalize the purchase. If the customer tries to pay after the expiration date, either the transaction won't process or they will be charged a late fee.
After about three days, the issuing bank of the boleto confirms the payment. Finally, the bank credits the payment to the merchant's account.
Uncommon Uses and Exceptions of Brazil Boleto
Boletos can be used in a few other ways but they are uncommon practices and can only be offered by Brazilian merchants. But since this post is everything you need to know about boleto, we left this in.
Installments with Boleto
Installments are popular throughout Latin America, not just Brazil. Usually when a customer decides to make a purchase in monthly installments, they do so by using a credit card; however, installments with boletos are possible. Read a case study of a merchant who increased their sales by 114% in Brazil with installments.
If the customer has a solid purchasing history at a store, or a good credit score, they may be eligible to break up a high ticketed item into even monthly payments. Every month they will receive a boleto via email or to their home address until the last installment is paid. Customers that are eligible for installments with boleto, usually have a nice credit limit that's unavailable at the time of purchase.
Carnet, a Booklet of Boletos
A carnet is basically a booklet of boletos that is sent home with the customer on the day of purchase. The booklet has a boleto for every month that the customer has to make a payment. Carnet is similar to installments with boleto, and common for big purchases like a car, motorcycle, or household appliance, and is also commonly used to issue property taxes for the year.
Why Boleto Bancário is Essential for Success in the Brazilian Market
81% of Brazilians Don't Have an International Credit Card
In Brazil, there are about four different kinds of cards. Debit cards that can only be used in physical stores in Brazil, meal cards that are re-charged monthly by employers, local credit cards that can complete transactions online and offline but only in local currency, and international credit cards that can complete transactions in any currency. Anyone with a bank account owns a debit card, nearly every employed Brazilian has a meal card, and about 66% of the population owes a credit card. Out of the 66% who own a credit card, just 19% own an international credit card. In other words, when you only offer credit card as a payment option on your ecommerce, 81% of Brazilians can't buy from you.
Distribution of Payment Methods in Brazil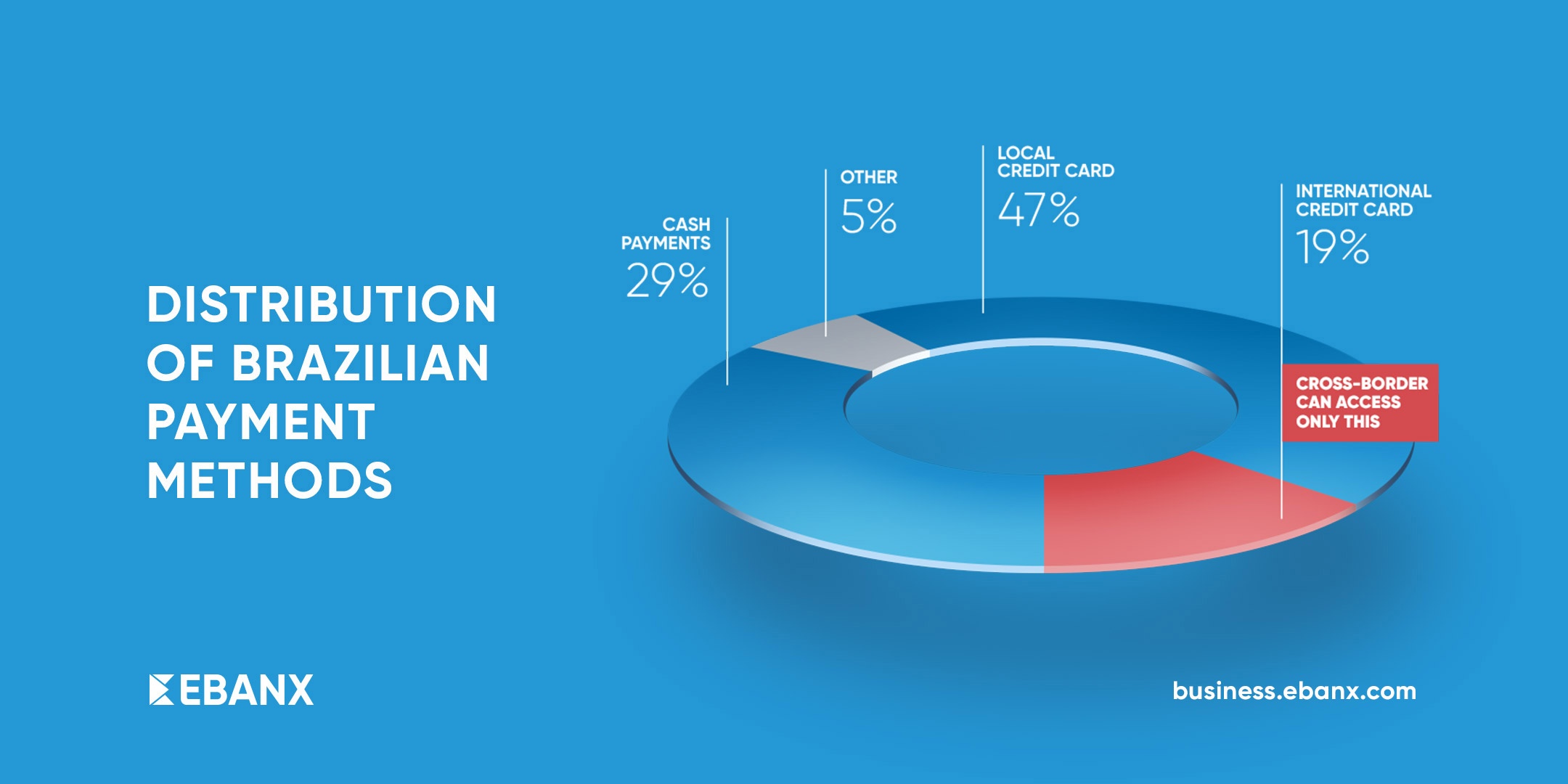 Just 19% of Brazilian consumers own an international credit card.
to learn more about local payment methods in Brazil.
Credit is Inconvenient, and Boleto isn't
In summary, the deal with credit cards is not fun. Credit cards have their convenience specially for making online purchases, but interest rates are commonly through the roof, banks are sneaky with fees, and about 40% of Brazilians avoid providing credit card information online because of fraud risk.
For all those people that struggle with credit or want to avoid the headache all together, cash payments are prefered for online purchases. Boletos can be conveniently processed in over 64K locations or using online banking.
Boletos are Familiar and Transparent
Nearly every Brazilian adult uses boleto at least once a month to pay rent or a utility bill, making it comfortably familiar. Furthermore, when a customer opts to pay in boleto, they know exactly what amount they will have to pay and by when. All the information is on one document. On the other hand, if you compare a boleto to a typical monthly credit card statement in Brazil, you'll understand how the simplicity of a boleto can be a welcomed relief.
How Merchants Benefit from Offering Boleto Payment Method
Besides having access to 4x as many Brazilians, boleto cash payments don't cannibalize other payment types like credit card. When you offer boleto, you are allowing a public that was previously unable to make international purchases online to be able to buy from your ecommerce.
EBANX Payments found that among our merchants who start offering boleto, they generally experience an overall sales increase in Brazil—across all payment methods. A cultural explanation for this is that Brazilians, similarly to many other Latin American consumers, choose merchants based on the payment methods they offer. Brazilians will keep their eyes open for international products on sale or for ecommerces that cater to Brazilian buyers. In other words, Brazilians spread the word once they know a merchant offers local payments.
Boleto also has plenty of processing benefits. Since boleto is a cash payment method, there is a 0% chargeback fee and virtually no fraud risk. The confirmation period is usually between 1-2 business days and settlement is faster in comparison to credit cards.
How to Offer Boleto Cash Payments on Your Ecommerce
There are essentially two pathways to offer boleto payment methods to your customers: opening a local entity in Brazil which requires years of paperwork and preparation, or finding a local processing partner or solution that can process local payments for your business.
Opening a Local Entity - Difficult
One way that you can start offering boleto is by opening a local entity in Brazil. The process of opening a local branch includes: submitting a request to the government, registering at the board of trade, and sending foreign capital through an authorized Brazilian institution, among other formal requirements.
Finding a Local Partner - Easy
The second and easiest way is to find a local partner that is legally allowed to deal with local payments for merchants selling cross-border to Brazil. This sounds extremely specific, however, fintechs in Brazil have received praise for opening up the market that once seemed forever blocked by overly bureaucratic Brazilian banks.
(without any of the hassle).

Exclusive Benefits of Partnering with EBANX
If you want to offer boleto cash payments online, your ultimate goal is probably to increase sales in Brazil or Latin America in general. EBANX Payments is not only specialized in local payment processing but also in helping cross-border businesses succeed in the region.
The EBANX Boleto vs. the Standard Boleto Bancário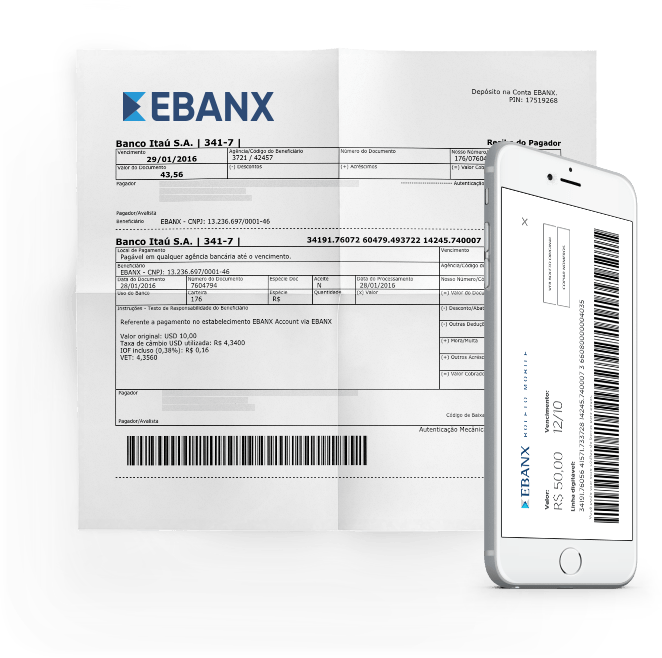 The EBANX Boleto is an exclusive version of the standard boleto bancário and was created to better convert customers. The standard boleto bancário has a low conversion rate since customers tend to either forget to pay the boleto or later choose they no longer want to finalize the purchase. With automatic email & SMS reminders sent by our team and the ability to pay the boleto using the EBANX e-Wallet funds, the EBANX Boleto has a significantly higher conversion rate than its predecessor.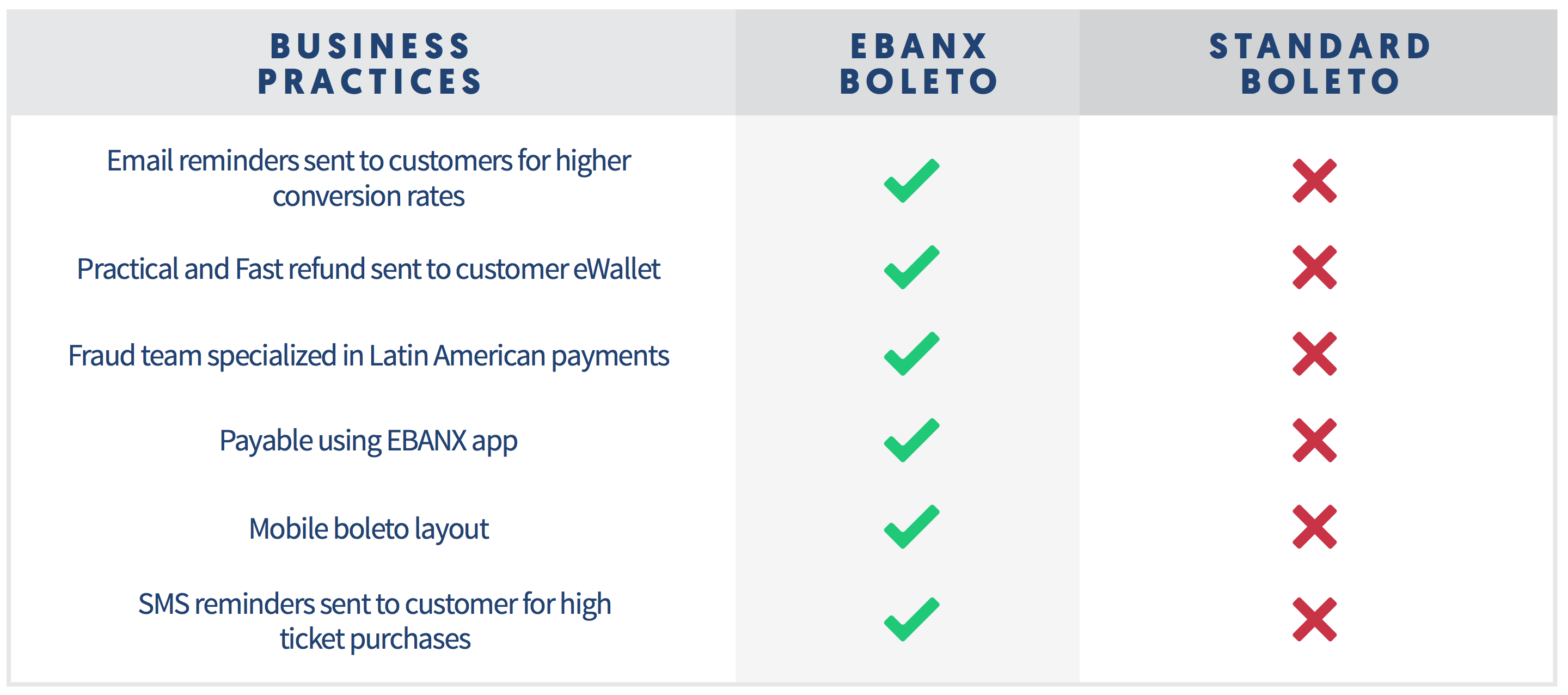 Other high converting features include: a highlighted serial number so that end users can easily copy and paste the number for payment via internet banking, a clickable print or save as PDF button on the virtual boleto, and the option to present the boleto using the EBANX App for cash payment in a store. Last but not least, the fast and practical refund process to the end user's EBANX e-Wallet encourages the consumer to reuse those funds toward another purchase with one of our merchants.
Merchant Success with EBANX
Merchants tend to experience an overall increase in Brazil sales after offering boleto payments with us. This is due in part to the Brazilian buying habit of choosing merchants based on the payment methods they offer and also because merchants benefit directly and indirectly from EBANX B2C marketing campaigns. Read a study conducted by our staff on boleto conversion rates.
An End-to-End System
We have over 25M end users across Latin America that buy cross-border through our processing services. When you process with EBANX, you earn the trust of these millions of consumers. Moreover, EBANX is more than a payment processor for our merchants, we are a partner on multiple levels. EBANX helps our merchants understand the market and their new Latin American consumers, and offers a complete solution with advanced fraud prevention, customer service, business consulting, and B2C marketing.
Whether you choose to offer boleto with EBANX or not, boleto is a key payment method for your success in the Brazilian market.
or how you can offer the EBANX Boleto.
In case you didn't read this entire post but are still looking for more info, you can listen to a summary about boletos in Brazil in the video below.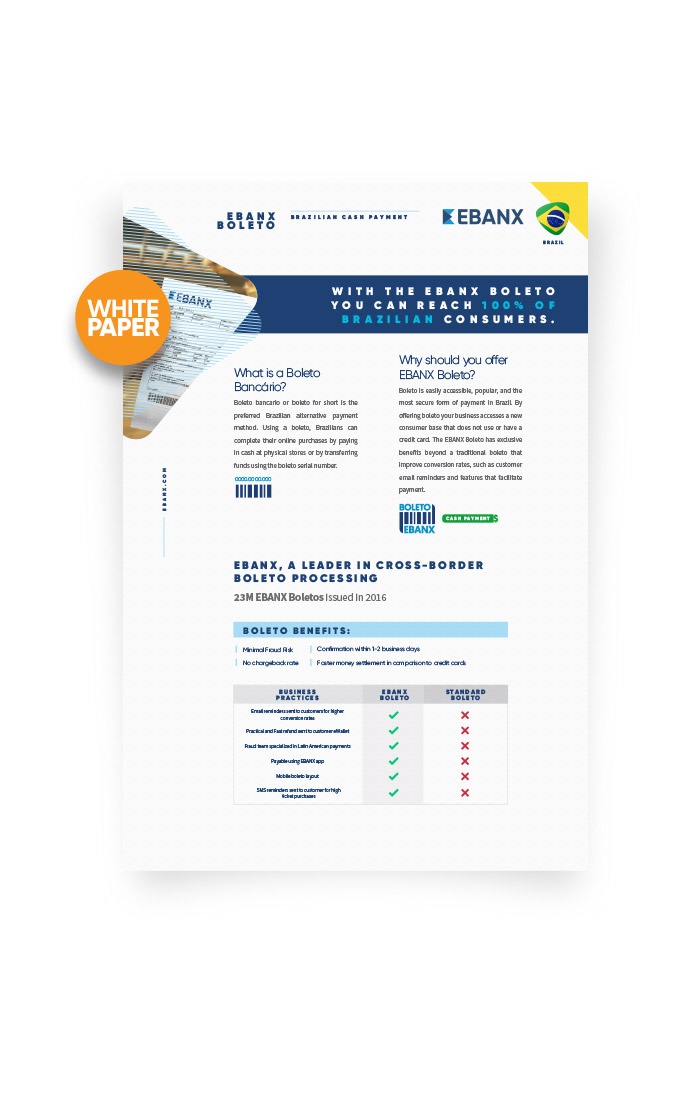 Download White Paper
Boleto: Brazil Cash Payment