Brazil is the first economy in Latin America and its online sales grow continuously despite the economic crisis. Brazilians love to shop online and cash payment methods are still a major choice for a great part of the population, the most common method being the boleto bancário.
Understanding how the boleto works and why Brazilians still choose this kind of cash payment method is a fundamental requirement for those who want to expand their business in Brazil. When you accept payments via boleto you are reaching everybody, including those that do not have other options, that can only pay for online purchases through this cash payment method: the unbanked ones, which represent around 40% of the Brazilian population, according to Central Bank of Brazil's data from 2015.
Seeking to comprehend the Brazilians' preference for this payment method, EBANX conducted a survey amongst boleto users. We've brought you some of the key takeaways from the report to help you achieve your goal in this market. You can get the full package of data by downloading the complete report on the link below.
The average boleto user
The first step in comprehending this behavior is knowing who uses boleto in Brazil. Is it the whole population or only some segments of it? We can learn from the report some characteristics of the majority of the boleto users, such as their main gender (69,1% are men), age (⅔ are more than 30 years old), where they come from (42,3% come from the Southeast, where the cities of Rio and São Paulo are located) and their educational level (none of those surveyed was uneducated).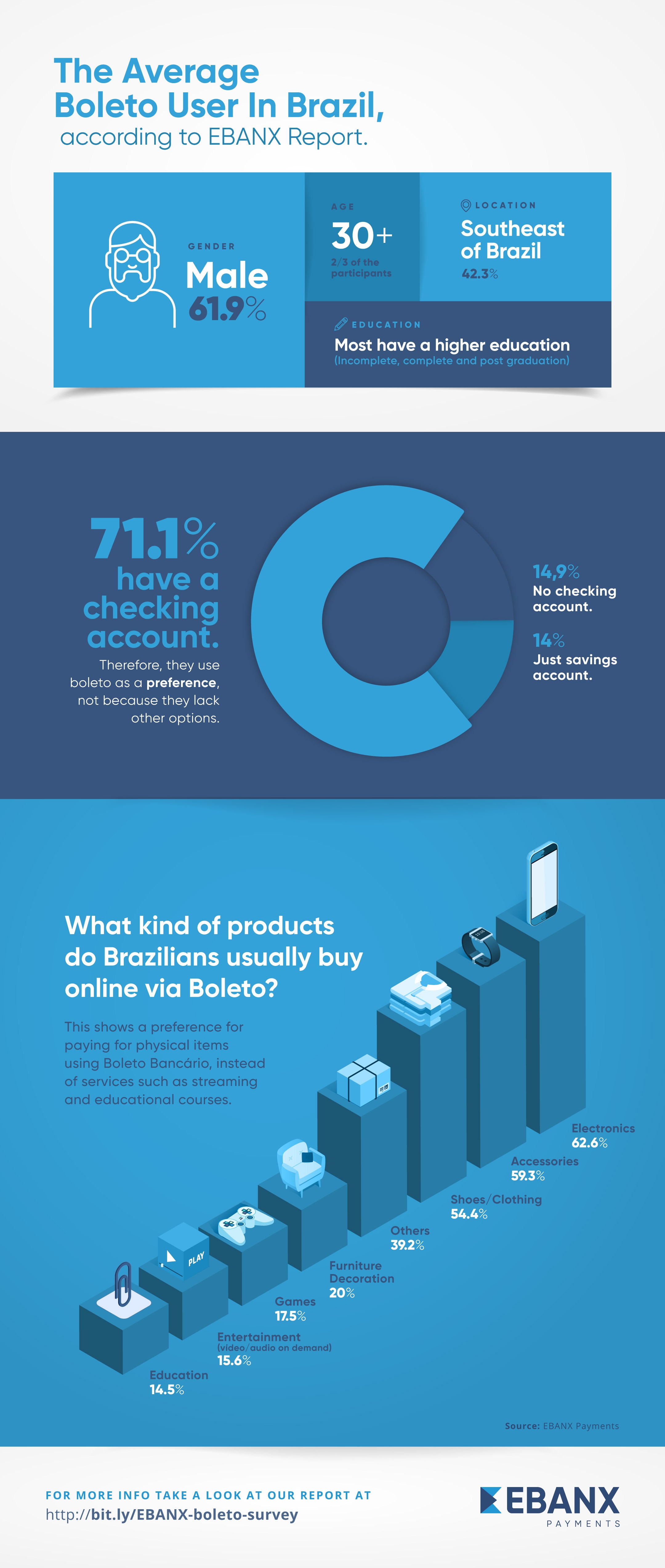 The research also showed that most of the respondents (71.1% to be exact) prefer to use boleto bancário as online payment method even having a checking account and, therefore, access to credit and debit cards (national and international). This demystifies the idea that only people who do not have checking accounts use cash payment methods.
In addition, despite what people may think, the ones who buy online and pay via boleto do not necessarily have a low income. Although 41.6% make a family income from 1 to 3 minimum wages (the Brazilian minimum wage is 937 BRL per month, nearly 300 USD), the majority of the respondents make more than 15 Brazilian minimum wages. 
One of the major conclusions that the survey provides is how important it is for the e-commerces, local or global, to offer Boleto Bancário as a payment method for its Brazilian customers, since it is a preference of many of them, including the ones that have other payment options such as credit cards.
The survey was sent to 300k Brazilians across all of the country's five regions (North, South, Southeast, Midwest, and Northeast) that use Boleto Bancário to pay for online purchases. A total of 12,186 people answered the questionnaire about the reasons leading them to buy online from e-commerces using this cash payment method.