Emperor because their user base of 110M expands across 60 countries & 5 continents—ranging from the Americas to the Asia Pacific.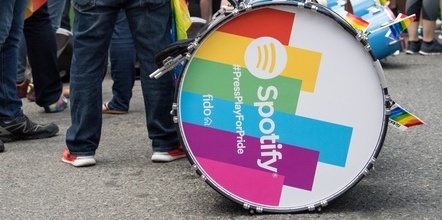 By DayOwl, First Pride Month Celebration in Toronto
The Swedish company fully embraces the slogan "music for everyone" with 50M paid users as of March 2017, and the number of users who listen for free on their ad-based service was last reported in June 2016 at 60M. Apple Music, although newer, only claims 27M subscribers worldwide.
As of September, Apple Music introduced their "My New Music Mix" which aims to compete with Spotify's "Discover Weekly" a playlist that creates a list of personalized songs updated every week. However, besides good reviews from current Apple Music subscribers, the company can't seem to surpass their competitor's exponential growth.
Spotify's reining title wasn't attained by having a well-known brand name and track record but rather they approached each region with their intent of giving music to everyone.
Their strategy is making music universally accessible but regionally tailored and distinct. Simply made for the listener. Many international corporations refer to this strategy as glocalization.
Glocalization Strategy at a Glance
American food giants such as Coca-cola, McDonald's, and more recently Starbucks expanded across the globe to become household names by implementing "glocal" strategies. Starbucks as an example, offers a variety of green tea drinks in their Asian locations, infuses local ingredients into their pasteris, customizes social media based on location, and for a short time used a different logo in Saudi Arabia (no female siren). The company retains what makes it Starbucks and tailors what's necessary to appeal to local tastes.
Outside of the food industry, however, glocalization is a newer concept to be practiced and tweaked. On-demand services such as Spotify, Airbnb, and Uber are the frontiersmen of the glocal strategy within their industry-type and face more complex barriers than trying to appeal to the local palate. The struggle for global expansion by on-demand tech has been met by legal restrictions, community resistance, online accessibility limitations, and financial / monetary barriers.
For example, Spotify seemingly struggles with balancing a cost effective service and paying artists a fair amount for their music. Taylor Swift told TIME in an interview:
With Beats Music and Rhapsody you have to pay for a premium package in order to access my albums. And that places a perception of value on what I've created. On Spotify, they don't have any settings, or any kind of qualifications for who gets what music.
But that's exactly the point.
Spotify's aim is to make the universal language of music, universally accessible and their continuous efforts to expand are paying off.
Spotify's Glocal Strategy
Similar to Airbnb's glocal strategy, Spotify customizes their music locally while maintaining an internationally attainable online service.
First, the company studies the "distinctiveness" of music culture in many major cities across the globe with the goal of understanding the regional nuances of listening and sharing habits. Using their interactive Musical Map, you can observe these distinctions yourself.
Spotify Around the World
In Spain, Spotify found that listeners enjoy music while playing video games. In order to customize their service for Spain, Spotify allows for Spanish subscribers to link their account to their Playstation & control their music while gaming. Among Spanish all internet users, about a fourth subscribe to Spotify.
Second in their glocal strategy, Spotify makes their services easily attainable by offering a variety of payment options. Although local payment options may not seem like an indispensable factor for business expansion, they are an essential ingredient in the glocal strategy.
In Italy, Spotify accepts mobile payments via Boku and as of 2015, 55% of Italians prefer Spotify over any other streaming service.
The results are similar in Latin America. Spotify accepts OXXO cash payments and gift cards in Mexico; consequentially, Spotify has a market penetration of 25% in the country. In Brazil, Spotify for Brands claims to be the number one music servicer in terms of weekly reach, with many of their subscribers paying via EBANX Boleto cash payments and local credit cards.
Perhaps Spotify's main competitor will need break away from an end-to-end mentality to stand a chance of claiming the top spot in global music streaming.